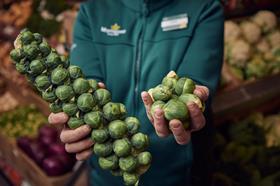 Morrisons will stock wonky stalks of Brussels sprouts this Christmas to help farmers sell crops hit by this summer's heatwave.
The stalks will go on sale for 75p and measure 30cm long, less than half the size of a normal sprout stalk. There are over 50 sprout buttons on each stalk which vary in size.
According to Morrisons, the stalk provides a good range of sizes for the family, with 2cm sprouts at the top for children, while towards the middle and bottom the sprouts increase in size to 4 cm across.
With brassica growers in Britain receiving only 75 per cent of their annual required rainfall this year, sprouts sweltered in the sun, struggling to grow in temperatures up to nine degrees hotter than usual.
Growers warned of a sprouts shortfall at Christmas this year after the extreme dry spell, but by stocking sprouts in this way, Morrisons are helping take on crops that may have previously fallen below spec.
Normally if sprouts don't have long stalks they are not harvested, meaning thousands of imperfect sprouts could have gone to waste this year.
Michael Weightman, sprout buyer at Morrisons says: "Apart from being a little short, our wonky sprouts have exactly the same taste and nutritional benefits as normal sprouts.
"Whether you love them or hate them, we know sprouts are an important part of Christmas dinners up and down the country. We hope that by selling whole crops of sprouts – not just the 'perfect' ones – we can do our bit to support British farmers and reduce food waste this Christmas."
The Wonky Sprout Stalks will be sold in Morrisons supermarkets across the UK and will cost just 75p, compared to the standard price of £1.50 for a standard sprout stalk.