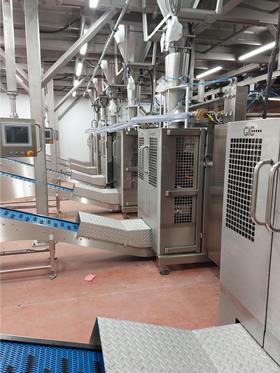 GIC, a leading UK manufacturer of vertical form fill and seal machines, has received its largest-ever single order from Natures Way Foods.

The firm, which is based in Gainsborough, Lincolnshire, has been asked to supply a further 16 of its GIC4100 Salad Specification machines to the pre-prepared salad supplier.

All of the GIC4100s ordered will feature the company's unique Leaf Salad Assisted Drop functionality, which speeds up packing and reduces the chance of salad leaves being captured in the seal leading to contamination and downtime, GIC said. Leaf Salad Assisted Drop also allows food companies to reduce their film use.

This latest order will take the number of GIC machines in use at Natures Way Foods to 29.

Nathan Bennett, project manager for Natures Way Foods, said: 'We have a very good relationship with GIC, and their machines are first class. They cut down on re-work of product, run faster than our previous machines and require very little maintenance, so there is minimal downtime, which is crucial to our operation.
'Our business is growing quickly, and we need to add additional lines to keep up with demand and forecasted increases. Given the excellent service we have received so far from GIC and the quality of their machines, it makes sense to add more GIC41000s to our operation.'

The GIC41000 with LSAD, is capable of packing up to 60 packs per minute and accept all suitable heat sealable materials including laminates and polyethylene. The machine features a 10-inch operator-friendly HMI colour touch screen, the latest specification Allen Bradley Servo Drives and has been fabricated in full stainless steel and comes with a high care kit.

'We are delighted to have received our largest ever order,' said Andy Beal, GIC's managing director. 'Everyone at GIC works incredibly hard to make the best machines we can. When Natures Way Foods placed its first order with us back in 2009 we never thought we would go on to supply them 29 machines. Natures Way Foods is an incredible story, and we are extremely proud to know that we are playing a small part in their success.'
GIC was established more than 30 years ago and employs 25 people. The company manufactures an extensive range of vertical bagmakers, producing a wide range of finished bag sizes from 150 to 600mm wide, in both intermittent and continuous motion variants. All GIC machines offer low-cost ownership, robustness, reliability and exceptional build quality.
Natures Way Foods is a leading manufacturer of fresh, convenient food and supplies retailers and foodservice companies with prepared salads, coleslaw and potato salad, and fresh food-to-go salad meals.
Established by the Langmead brothers in 1994, Natures Way Foods has grown rapidly and today employs more than 1,2000 across four manufacturing units capable of producing over 238 million units and handling over 110,000 tonnes of finished product.