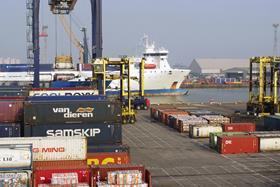 A new weekly freight service will now call at the Port of Tilbury as part of shipping group CMA CGM's Euraf1 service between northern Europe and west Africa.
The new service will carry banana reefer containers from west Africa to the UK, among other products.
Six vessels with a capacity of 3,500 TEUs (twenty foot equivalent units) will sail the following weekly rotation: Tilbury, Dunkerque, Antwerp, Le Havre, Montoir de Bretagne, Tanger Med, Algeciras, Dakar, Abidjan, Dakar, Algeciras, Tilbury.
Angela Black, head of commercial at Tilbury's London Container Terminal (LCT), said: "We are delighted to welcome this new CMA- CGM's EURAF1 service to Tilbury.
"I am confident that our excellent levels of service at LCT will meet with CMA CGM's expectations, while our current developments such as London Distribution Park plus the build of one of Europe's largest chilled warehousing facilities at the container terminal, so close to London, means that LCT is the ideal port for UK exporters and importers looking to access West Africa."
The inaugural call of the rotation in Tilbury took place this week (10 August).