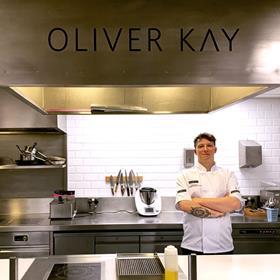 Oliver Kay Produce has appointed Dean Kinsey as its new development chef.
Kinsey joins the business at a time when sales of vegan and vegetarian dishes continue to grow, and will be working with chefs across the full range of hospitality businesses to develop innovative ingredients and recipe ideas.
His background as a chef spans fine dining in restaurants and hotels, food-led pubs and private dining, and he was most recently head chef at BAB NQ restaurant in Manchester.
One of Kinsey's first tasks will be to help oversee the OliverKay National Vegan Dish of the Year 2020, a high-profile recipe competition for chefs, which launches in January 2020.
He said: 'I'm delighted to join Oliver Kay, and it's definitely a case of jumping in at the deep end as we launch the search for new and innovative vegan menu ideas.
'It's now essential that hospitality businesses offer engaging vegan options, and I'm looking forward to seeing what my fellow chefs come up with for the competition - as well as working closely with them in the longer term to drive sales of plant-based ingredients, and develop new recipes.'
Kinsey's role is not limited to vegan dishes, as he has expertise in meat, including game, developed during his days working in country pubs, according to the company. This ability to turn his hand to a wide range of cooking styles will enable him to support chefs and caterers at all levels with menu planning and recipe development, the firm added.
Ian Stuart, managing director of Oliver Kay Produce, said: 'We're delighted to welcome Dean on board. His experience of a broad range of catering businesses combined with the flair, innovative ideas and skills he brings, will ensure our sales teams appreciate what can be done with fantastic seasonal produce, and help our customers offer innovative and profitable menus.'