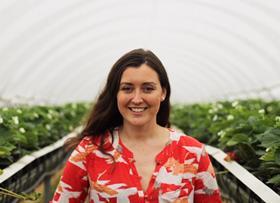 Kent soft-fruit grower Hugh Lowe Farms has appointed Amelia McLean, daughter of eminent grower Marion Regan, as a director.
Following a degree from Oxford University, McLean trained as a solicitor with the international firm Cleary, Gottlieb, Steen and Hamilton LLP in London, specialising in dispute resolution.
Having grown up on the farm, Regan said McLean has 'a good understanding of, and passion for, fruit growing and marketing, and she is keen to take our family business forward into the fifth generation'. 'She is excited by the challenges and opportunities the industry is facing, where she feels her IP and commercial experience will be of value.'
Regan has grown Hugh Lowe Farms into one of the most respected producers in the country, with a focus on environmental and ethical values. She said:"Every farming business takes the long view and for us, having fresh ideas and youth on board helps us take forward some thrilling ideas for our wonderful products, grown by experts in the best global locations for berry production".
McLean added: "I've been steeped in soft-fruit growing all my life and am excited by the possibilities for growth, innovation and collaboration in our sector."