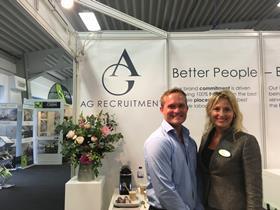 Labour provider AG Recruitment and Management has rebranded the business to mark year-on-year growth for the Kent-based company.
AG's new look was unveiled at the National Fruit Show by founders Doug and Estera Amesz who revealed they were opening new offices abroad to widen their reach for seasonal agricultural labour.
Doug Amesz said the rebrand was a chance to capitalise on their achievements as a labour provider despite facing one of the hardest recruiting climates in recent times.
"The rebranding is an opportunity to refresh the brand, and we're looking to capitalise on what we have achieved in the last six years we've been supplying the UK,' Amesz said.
"It's positioning ourselves for the next five years and building on the growth and success we've had to date.
"The business has grown 30 per cent year-on-year for the last five years. The fact that we have achieved that in the last three years is a real testament to our business model."
Amesz said recruiting has been a "tremendous challenge" recently, but credits their business model, of owning their supply chain, with five offices in Romania, and three in Bulgaria.
Horticultural labour shortages have hit the headlines recently, and Amesz said he was facing "unprecedented" demand from growers for labour because of early leavers and general shortages, as topfruit and other produce enter peak harvest.
"We have done our best but we have only placed around two thirds of worker positions," Amesz said.
"Workers are less willing to travel to us, we have to get to them and sell them the opportunity to work in the UK. We're up against some stiff competition; other EU countries have working conditions on a par with us."
Amesz also backed the industry's call to expand the Seasonal Agricultural Workers Scheme (SAWS), from its current 2,500 quota, as well as give other labour providers the chance to operate under the scheme "and introduce some healthy competition".