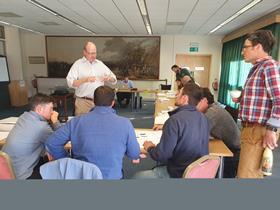 Organic certifier, OF&G (Organic Farmers & Growers), in collaboration with independent awarding body, BASIS and agronomy advisers, Abacus Agriculture have announced 2022 dates for the newly launched Foundation Award in Organic Farming, following a successful pilot.

Next year's Harper Adams University accredited level four courses will take place over three days on 18 – 21 January at Stoneleigh Park; Warwickshire, 19 – 22 April at the Great Yorkshire Showground; 19 – 22 July at the Bath and West showground and 27 - 30 September, venue to be confirmed.

"We received really positive feedback after the trial in the autumn," says Steven Jacobs, OF&G business development manager. "Farmers and advisers have a strong appetite to build their knowledge of organic systems and we've been taking enquiries for the course already and anticipate good uptake."

The Foundation Award provides a comprehensive introduction to organic farming and organic legislation; to primarily crop and livestock production, soil management and conversion planning.

George Fletcher, who co-manages Berkswell Cheese, completed the pilot course and notes that with the rise of input costs associated with conventional agriculture, he was looking to make his business more financially sustainable. "The course taught me about practical techniques to help reduce expensive fertiliser and spray use and the clear advantages of bringing livestock into my crop rotation."

Ian Knight, farm adviser and director at Abacus Agri, adds that this training is not only for those considering organic conversion. "The course is relevant across the agricultural sector. The key principles of organic farming and a natural biological approach to soil, crop, livestock and human health apply to every sustainable farming business and forms the direction of government policy and grant support for agriculture."

BASIS' head of business development, Greg Hopkinson explains what candidates should expect from the training and assessment for this course; "At BASIS we are really excited about supporting the organic sector through this new qualification. Candidates will need to combine the onsite training they receive with independent study before taking a written exam which will assess the knowledge they have gained."

Designed to be a stepping-stone towards more advanced certifications in the future, the Foundation Award provides a comprehensive introduction to organic production which will be complemented by additional courses in the future. To learn more about the Foundation Award in Organic Farming visit www.ofgorganic.org or www.basis-reg.co.uk/training.