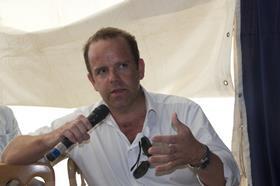 Seasonal labour recruitment specialist Jimmy Davies has led the acquisition of HOPS Labour Solutions from the National Federation of Young Farmers' Clubs (NFYFC).
Davies owns 90 per cent of the shares in HOPS Group, a company set up to complete the transaction. He previously worked for HOPS from 2004 to 2013.
HOPS is one of the largest providers of labour to the horticulture industry, sourcing thousands of workers every year. It has been an operator of the Seasonal Agricultural Workers Scheme and other initiatives to secure labour for growers.
HOPS has had a relationship of over 30 years with NFYFC, starting out as its commercial arm and with shares held by trustees of the federation. HOPS will continue to support NFYFC through an agreed sponsorship for an initial seven years, the two sides explained, adding that they both see the transaction as the next part of their journey together.
"Having started my career in seasonal labour recruitment at HOPS in 2004 I see this as a huge opportunity, responsibility and privilege to be able to guide the organisation through the next phase of its development,' Davies explained. 'HOPS and what it stands for has always been close to my thoughts and I am excited for what the future holds. I would like to thank NFYFC for its support, guidance and progressive approach to our discussions and I look forward to maintaining and building on the close connection between HOPS and the Federation and the client farmers and growers."
James Eckley chief officer at NFYFC, added: "The NFYFC is pleased that ownership of HOPS Labour Solutions has passed to Jimmy Davies, and is confident that under his ownership, it will continue to provide a quality service to its clients – many of which have been working with HOPS LS for very many years. As part of the transition, we are thrilled that HOPS has committed to a continued close relationship as a sponsor for our organisation."
Davies stressed that HOPS will remain true to its core offering and seek to add further services to diversify its offer to farmers and growers moving forward, adding that it will continue to be a major supporter of young farmers.