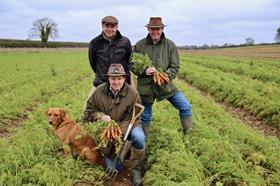 The British Organic Carrots campaign is launching its next tranche of activities under a new strapline.
The promotional push by organic carrot producers includes the unveiling of an Organic Carrot Cookbook penned by 'Ms Marmite Lover' Kerstin Rodgers, as well as social media work, recipes in the media, lorry advertising, advertorials and retailer online and on-pack promotions.
The new cookbook will feature 34 recipes together with farming profiles and information on why organic is a favourable option.
The campaign, which is now running under the strapline 'Organic Carrots - Working with Nature', also announced a collaboration with the Landmark Trust, offering prizes of holiday breaks to one of their distinctive properties around the UK. Details will be made available in consumer magazine advertorials and on the campaign website.
Andrew Burgess, divisional managing director for RB Organic, said: "We are very proud to be working on this offer with the Landmark Trust, a charity which restores incredible properties around the UK. There is a high correlation between interest in heritage buildings and a preference for organic produce, so this is a great fit for our campaign."
The British Organic Carrots campaign launched in October and has ambitious targets to grow participation of organic versus conventional carrots over the next three years. Events so far have included a supper club with Ms Marmite Lover, a press day to RB Organic's farm in Norfolk and an organic carrot-themed lunch at Morston Hall, radio interviews with chef Marcus Bean, and the launch of a new website at www.britishorganiccarrots.co.uk.