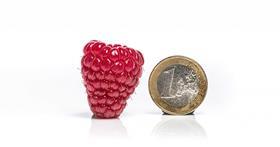 Global Plant Genetics has revealed a new primocane raspberry, provisionally named Skye, which will shortly be available for commercial use.
Fresh from the breeding programme at James Hutton Limited, Skye is a mid-late autumn variety, with high potential to double crop.
According to GPG the variety has great size, shape and flavour, with a mid to light red which is maintained after picking.
The vigour of the variety is considerable and the canes grow to a good height. The combination of this vigorous growth habit and fruit quality make it adaptable to both summer and autumn harvesting so the variety can be readily double cropped.
Global Plant Genetics represents certain James Hutton Limited raspberry varieties in select territories.
Jamie Petchell, who leads Global Plant Genetics efforts in raspberries said: "We are delighted to have struck a raspberry representation deal with the world-renowned James Hutton Limited Raspberry Breeding Consortium.
"Their raspberry varieties have been well-known globally for a long time now. Their recent developments present growers across the world with an opportunity to access material that will further boost their own production. The new variety RBC16P4 (Skye) delivers on all levels required in today's competitive raspberry landscape. It is truly world-class."
The breeding program at James Hutton Limited started to work on primocane types in 2012. Its scope is to create brand-new, targeted and enhanced raspberry varieties, a process accelerated via the ingenious science of the James Hutton Institute.