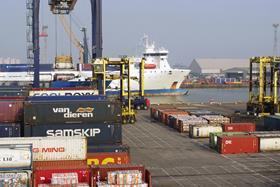 Shipping firms MacAndrews and OPDR have launched a new joint service that links key northern European ports with Portugal.
The new route, which is named POSS (Portugal and south Spain),serves Tilbury, Dunkirk, Rotterdam, Leixoes, Setubal, Lisbon, Algeciras and Cartagena.
Three weekly departures aim to create fast connections to and from Portuguese ports, described as ideal supply chain transit for reefers and dry cargo requiring deliveries in the UK on Monday. It also offers improved transit times and links with Scandinavia, Russia and the Baltic States.
It is the first joint service between MacAndrews and OPDR, which are each 100 per cent owned by French shipping group CMA CGM, and will see three container ships of 700 TEUs operate across short distances.
'The combined MacAndrews and OPDR footprint in Iberia consolidates our position as the largest Iberia centric Inter European container carrier. The new POSS service marks the beginning of a concrete co-operation between us, growing the business for the group through increased service frequency to compete with our main competitors overland trucks," said MacAndrews chief executive, Geoffrey Smith.
Till Ole Barrelet, chief executive of OPDR, added: "I am very pleased that this first joint service of MacAndrews and OPDR has now started and both are looking forward to further deepening their collaboration."