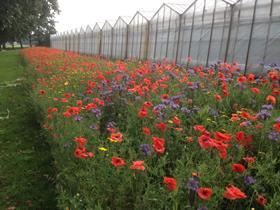 Asda is introducing two new home-grown tomato varieties to mark British Tomato Fortnight.
The new yellow and orange varieties are grown by Flavour Fresh and have been launched in Extra Special Mixed Tomato packs at £1.50 for 250g, with the supermarket keen to trumpet their sustainability credentials.
Flavour Fresh, at Aldergrove Southport, has partnered with The Three Owl Bird Sanctuary and Reserve over the past five years to help build an environment around its greenhouses where the birds could be safely release back into the wild.
Endangered birds of prey, bees, water voles, moths and rare butterflies are among some of the inhabitants around the greenhouse and Flavour Fresh's meadows, as the grower plants wildflower mix around the plots to encourage biodiversity.
The approach to growing and protecting the ecosystem has gained Flavour Fresh recognition with both the Ethical Trading Institute and The Soil Association. In addition to protecting the local ecosystem, the recirculation design of the greenhouse allows water to be collected and redistributed across the crops, making the practice sustainable and preventing the local waterways from being polluted.
Flavour Fresh production manager Andy Roe said: "Never did I dream that tomato growing could ever be so beneficial to British wildlife. From a bare grass field five years ago, we now have a vast meadow reserve that has delivered the most amazing transformation to the local wildlife and ecosystem. To be able to see endangered birds hunting at dusk in the iconic British countryside setting is amazing and knowing are approach to growing tomatoes has contributed to that is just an incredible feeling.
'We are so proud of our contribution to the environment. It just shows what can be achieved with the right approach to growing and biodiversity. The wild flowers we've planted around the greenhouses not only look fantastic but with them they bring an eclectic mix of butterflies, bees and moths, which make a vital contribution to the ecosystem".