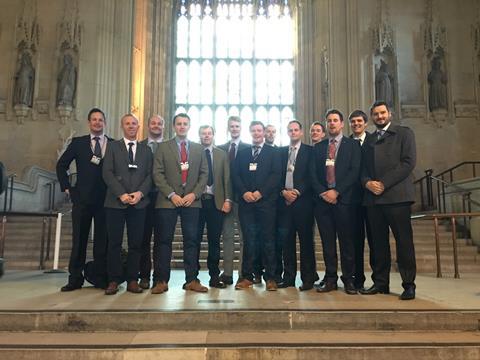 The AHDB's Next Generation of potato growers visited Westminster and met with MPs on the final stage of their programme.
The group discussed industry challenges, including Brexit, water abstraction, plant health, agricultural science and the Great British food and farming plan, in a parliamentary-style debatewith MPs Mark Spencer and Andrew Bridgen.
Grower and Next Generation member Edward Backhouse said: "This isn't something that you get to do every day, or even something I think I'll get to do again.
"To have the opportunity to speak directly with MPs about the issues that matter personally to my business and the wider industry is great, and to have them be so open about everything was quite refreshing."
The Next Generation programme allows young people to learn about areas of business that impact on the potato industry that they would not ordinarily be exposed to, with the idea that they will be "catalysts of future industry success".
Another member of the scheme, Adam Lidstone from south Devon, said: "I was really keen to ask about seasonal working and MP Mark Spencer was really clear in his answers.
"I think the best message I have taken away from today is that my issues or concerns about the industry are shared by a number of people, so the opportunity to air my views and hear those of others was excellent."
As well as meeting MPs, the group had a tour of the Westminster grounds and visited the nearby NFU offices.
Matt Ware, NFU's head of government and parliamentary affairs, said: "I can't emphasise enough the importance of contacting your local MP, not just as a one off, but if you have a valid point and something you'd like to raise I think you should have the confidence and the foresight to push your MP on the issues."
"Invite them to your farm, invite them to have a look around. Get your local press involved. There you'll have the opportunity to talk openly and show them the concerns you wish to raise," he added.