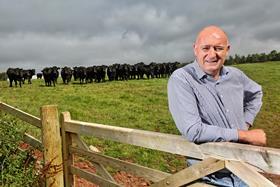 The Welsh Government's latest white paper policy proposals fall short of providing a true 'Made in Wales' policy framework that will allow Welsh farming to thrive in a post-Brexit marketplace, says NFU Cymru.
The 'White Paper on Agriculture in Wales' consultation, which paves the way for an Agricultural (Wales) Bill, was launched today (Wednesday 16 December) by the Minister for Energy, Environment and Rural Affairs, Lesley Griffiths MS and is open until the 25 March 2021.
NFU Cymru President John Davies said: "Our initial analysis of the white paper suggests that very little has changed in this document from the proposals that government set out in its 2018 consultation 'Brexit and Our Land' and the 'Sustainable Farming and Our Land' update in 2019. Government appears to continue to propose that all the economic, social and cultural benefits provided by Welsh farming can, in future, be secured through the Sustainable Farming Scheme, a scheme that is predominantly focussed on environmental outcomes.
"Covid–19 has brought into sharp focus the need for food security for all in society to be embedded as a key objective of government policy, it is disappointing to see that this matter is not recognised in what Welsh Government proposes as a vision for the next 15-20 years.'
Since the EU referendum, NFU Cymru says it has been clear and consistent in the set of key principles that should form the basis of a new domestic agricultural policy in Wales. These include measures to secure the continued supply of safe, high quality, traceable food for all in society; measures that target support at the active farmer and the need for a proportionate and evidence based regulatory regime that ensures Welsh farming can remain competitive with farmers across the UK, the EU and globally.
'A comprehensive and fully integrated food and farming policy built around three cornerstones of productivity, stability and the environment working in synergy would, we firmly believe, deliver the multiple objectives of securing our food supplies, enabling nature to thrive and meeting our aspirations for net zero whilst sustaining our rural communities and culture," Davies said.
"The proposals to effectively transfer cross compliance into a set of National Minimum Standards propose a major step change in the regulatory landscape in Wales and this requires very careful consideration. It appears that it could result in a significant uplift of the regulatory baseline in Wales which will impact on our competitiveness.'
NFU Cymru will now take some time to study the consultation in detail, Davies added, but its initial analysis is that these proposals fall short of providing the framework required to meet the principles and ambition that NFU Cymru has set out for Welsh farming - an ambition for a 'productive, profitable and progressive sector that delivers for the whole of Wales'.
"This is a hugely important consultation,' Davies said. 'NFU Cymru recognises that this is a once-in-a-generation opportunity to develop and introduce a comprehensive food and farming policy 'Made in Wales, for the people of Wales'. It's for this reason that since the EU referendum we have undertaken an unprecedented member engagement programme to ensure that the people most impacted by these changes have the maximum opportunity to input into our policy development process.
"We are concerned that the timing of the publication of this white paper will make it harder for farmers to actively participate in this consultation. The most pressing and immediate focus for all of us at this moment is in supporting each other through the current pandemic and in preparing for the significant changes and disruption that the industry will face following the ending of the Brexit transition period on the 31st December. Welsh Government needs to recognise this and keep under active consideration the ability of the industry to properly consider this consultation at this time.'
Davies concluded: "We are pleased that the Minister has recognised the need for some stability and continuity by signifying her intention to continue with the BPS in 2022, subject to the continuation of funding from the UK Treasury, this news is welcomed at a time of such upheaval for Welsh farming businesses."