Wonky fruit and veg service now covers almost a million more households in Edinburgh, Glasgow, Motherwell and Paisley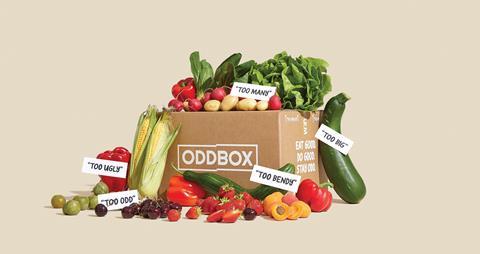 Food-waste-fighting veg box service Oddbox has expanded into Scotland in its bid to rescue 150,000 tonnes of fresh produce.
With delivery routes planned and tracked by Scottish proof-of-delivery firm PODFather, Oddbox is looking to expand its delivery radius to nearly one million households across the Edinburgh, Glasgow, Motherwell and Paisley areas.
Having started life supplying fruit and vegetables to homes across London and the southeast of England, Oddbox saw sales rocket during lockdown and expansion across England and Wales saw delivery volumes exceed four million boxes.
Expansion into Scotland will help Oddbox achieve its goal of reducing the 66 trillion gallons of water and eight per cent of global greenhouse gases generated by growing food that is ultimately wasted.
Oddbox says its delivery scheme is responsible for rescuing over 6,440 tonnes of surplus fruit and vegetables directly from farms since 2016.
Products are collected, checked, and packaged up ready for delivery to customers' homes, and last year Oddbox partnered with PODFather to help with fleet management and electronic proof of delivery.
The cloud-based system and driver app allows drivers to collect job information, track deliveries, capture notifications, and give teams full visibility of the distribution process.
Drivers use the app to log vehicle checks, share information with the transport team in real time, and capture proof of delivery photographs which are sent to customers. This is handy as many deliveries are carried out at night and left unattended.