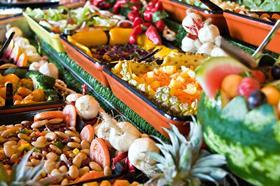 A new how-to guide for organic producers interested in selling into foodservice has been published.
Produced by Soil Association Certification, the guide outlines the key things organic businesses need to consider and have in place to get their products listed and to supply the burgeoning foodservice sector.
It also sets out what caterers are looking for from suppliers, how foodservice supply chains work and hints and tips for accessing the market.
The certification body is using the guide to highlight the many opportunities for suppliers of organic, local and sustainable products within the foodservice industry, which includes public sector and high street catering.
It comes after a survey carried out by Soil Association Certification found that as many as 50 per cent of people would be more likely to choose a restaurant that highlights its ethical or sustainable credentials, while 43 per cent think a restaurant or café will be better than others if they see organic on the menu or drinks list.
Clare Hadway, foodservice business development manager at Soil Association Certification, said:"Organic sales in the foodservice sector have grown by 50 per cent in the past five years, so there are plenty of opportunities for organic fresh produce within foodservice. Caterers and chefs are looking for suppliers to meet this increasing demand and Soil Association Certification have today launched this guide to give companies the knowledge they need to make the most of this exciting opportunity."
In 2018, £57 billion was spent by consumers in the foodservice sector, according to the Federation of Wholesale Distribution,and in the public sector £4.9 billion was spent on food procurement [Defra].