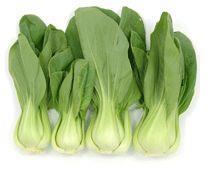 Although larger companies tend to see pak choi as a "useful sideline crop", the oriental staple may have wider potential as popularity for Asian cuisine at home and eating out continues to rise.
And it's not just Asian restaurants that are seeing demand grow for the versatile green. Managing director of oriental vegetable grower Rokewood, David Lam, explains: "A lot of English restaurants are now using pak choi as a normal vegetable in a side dish, rather than a novelty item. As well as this, more people are using it to cook at home."
Wisbech-based Lam is the sole grower in the UK who produces only oriental vegetables. A supplier to produce giants including Mack and Produce World, he grows 25 acres of pak choi under glass from the beginning of March until mid December, and believes the season could be expanded.
"It's becoming very common and it is accepted by a lot of people. The category needs a bit of excitement and promotion, but it has a lot of potential," he says.
One opportunity that Lam has spotted is the influx of Asian students to both schools and universities. "Chinese students significantly boost the population. During school terms in particular there is increased demand for Asian vegetables," he says. "Similarly, Chinese students at boarding schools are likely to leave school at the weekends, when they will go to Chinese restaurants. University students also do a lot of cooking."
As a pak choi grower since 1987, Lam says one of the more significant developments has been in better seed supply. "Propagators are now offering hybrid, rather than open-pollinated varieties," he says, adding that Rokewood is investing in new machinery to become more efficient, rather than increasing acreage. "There is a slight shortage at the moment, which is unusual in summer. The demand is reasonable but supply is low, so pricing remains firm," he adds.
Jackie Harris, technical manager of Evesham-based ValeFresco, says pak choi is one of the lines that the company offers all year round. "It is a growing market. It is a key ingredient for home cooking in dishes such as stir fries, and it's very versatile," she says.
ValeFresco currently grows three hectares outdoors, and has six ha of covered pak choi production, which Harris adds is supplemented by "contingency" volumes of imports from either Italy or Spain. "The season is currently going well, though we've had a bit of pest activity with the warm weather. There is growth in the local and farmers' markets, and more demand from foodservice. It's not our biggest line but it is a useful sideline."
Noting that one of the biggest challenges is the weather, Harris says ValeFresco has invested a lot in polytunnels for its pak choi production.
Meanwhile, Lam believes one of the biggest challenges the market faces is second-generation immigrants who are becoming accustomed to English cuisine. "Jamaican suppliers face the same problem, as these immigrants might stop eating so much yam. We face the same problem," he says.
"There are a few chefs using pak choi and helping to promote the vegetable, such as Ken Hom. They are quite visible and you do see them using Chinese vegetables."