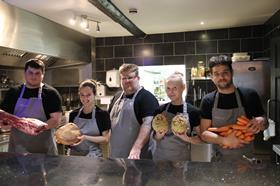 For Peterborough chef Lee Clarke,flavour is everything. It informs the growers he works with, the produce he cooks, where he sources it from, and when he buys it. Perhaps more importantly, it shapes his whole philosophy on food, and his wider views on the UK's food system.
Clarke's high-end restaurant Prévost, which he and his wife opened in his home town two and a half years ago, "because I'm a Peterborough boy and I love cooking in my home city", is driven by the seasons – expect celeriac in autumn, Brussels sprouts in winter, asparagus in spring and Cambridgeshire soft fruit in summer – and getting the freshest, best-tasting ingredients is very much what drives this.
One benefit to following the seasons, Clarke says, is that it pushes you down roads that you wouldn't otherwise explore – and a good example of this has been the chef's decision to feature lesser-known brassica kohlrabi on his menu. "We'd never used the vegetable before we opened here," Clarke says, "but then a farm in Yorkshire started growing really good quality kohlrabi and we've had it as one of the stars of our menu four or five times now."
Sourcing direct
Having previously worked for the likes of Marco Pierre White and Albert Roux in London, before establishing himself on the Peterborough food scene at Clarke's, the chef's increasingly 'direct-to-grower' sourcing strategy can be explained more by his obsession with flavour than his desire to protect the environment – although this is also an important consideration. He stresses that his customers come "for an experience", with adventurous set menus designed to test their taste buds without the hassle of having to choose.
Clarke is keen to support local growers, with radishes produced by community growing project The Green Backyard in Peterborough town centre; strawberries coming direct from nearby Lutton Farm; and carrots, potatoes, onions and beetroot soon to be supplied by leading organic grower RB Organic, whose nearest farm is on the Houghton Estate in Norfolk.
Reducing food miles should not come at the expense of quality, however: "I'm not interested in buying something that's from only a mile away unless the quality's as good or better than what I could buy from a supplier that's further away," he says.
Growing your own
Perhaps the fastest-growing trend in the upper echelons of the catering industry right now is the 'chef-farmer' phenomenon, as seen at trendsetting Copenhagen restaurant Noma, which has its own urban farm. More and more British chefs are getting in on the act and trying their hand at growing their own fresh produce. Top British chef Simon Rogan has set up his own farm in the Lake District to supply his five restaurants; Dan Cox, former executive chef at Fera, has taken on a farm in Cornwall alongside his new restaurant; and Sam Buckley at Stockport restaurant Where The Light Gets In is another British chef trying to cut out the supply chain.
Opinionated and honest in his take on the restaurant sector, Clarke is not totally convinced, however. "Top chefs are starting to grow their own produce now, and they're becoming a lot more interested in that side of it," he says, "but personally I'd rather let the farmers farm and the chefs cook. Farmers generally have skills and knowledge that's been built up over several generations."
"There's nothing wrong with copying"
Given the nature of Prévost, which is described in the Michelin Guide as having a "creative Scandic style", Clarke says he has to follow some foodie trends "to stay current", but he tries not to get fixated on them. "We know what's fashionable, but we don't get obsessed with it," he says. Nor is he hung up on trying to be original, recognising how difficult it is for restaurants to be unique nowadays given how quickly foodie ideas and trends can circulate on social media.
What Clarke has true respect for is a dedication to perfecting a dish or cooking technique, citing Japanese cuisine and the acclaimed documentary Jiro Dreams of Sushi, which features one of Tokyo's most revered sushi restaurants and its perfectionist owner Jiro Ono. "There's nothing wrong with restaurants copying one another – and it happens all the time," he says. "Restaurants should be less obsessed with being unique and more with being the best at what they do. Being copied is a compliment – it shows that you're relevant."
Despite the fact that Prévost opened just two and a half years ago, Clarke says other restaurants in Peterborough have already started to borrow ideas from it. On top of this, the restaurant is listed in the Michelin Guide, Harden's Best Restaurant Guide and the Good Food Guide – with the latter proving a major boost for business – however, a Michelin star remains elusive. Earlier this year the restaurant missed out on the coveted accolade after an inspector caught Clarke on a bad day, turning up for dinner straight after one of the restaurant's busiest days of service to date.
Has being based in unassuming Peterborough made it harder for the restaurant to garner top acclaim? Clarke is philosophical. "Being based in Peterborough has advantages and disadvantages," he says. "On the one hand, we don't get lost in all the competition like we would in London, but on the other hand we're less visible and have a smaller pool of potential customers. We're a big fish in a small pond."
Making veg the star
Fortunately for Peterborough foodies, and those who make the journey from Cambridge or London, this hasn't made Clarke any less adventurous with his food – and seasonal fresh produce features prominently in his most creative dishes. "It's really nice that things like organic sand carrots, kohlrabi and good-quality Tenderstem are now taking centre stage," Clarke says. "Before, it was your scallops, your lobster, your sirloin steak."
The chef is ready to admit that he once "hated" vegetarian cooking, and he remembers simply serving plates of steamed vegetables when he started out as a chef 20 years ago. But now Clarke loves working with vegetables, and he raves about "the versatility of roasting, steaming, cooking, pureeing or blanching them". The joy he now derives from this comes partly from years of training, but it is also thanks to a marked improvement in the quality and flavour of British-grown veg, he says. "There's a real drive from producers now to grow for taste and not just for yield," he explains. "The more they do that, the more I think the vegetable market will grow stronger on its own."
Clarke concedes that it is still normal for most restaurants to source vegetables through a large-scale catering supplier, with direct supply relationships easier to forge in the premium meat sector – but this has now started to change. Prévost's Bolton-based supplier, Wellocks, is much more focused on the seasonality, quality and the story behind the produce than on shifting large volumes. And this is evident in the videos on the supplier's website, in which managing director James Wellock visits growers on their farms to hear their story and find out about the varieties they grow.
Telling a story
It is in this way that Clarke believes fresh produce suppliers should market themselves to chefs, and he urges them to "know their point of difference and be good at selling it". "Nearly everyone has a great story to tell," he says, "and I'm much more willing to choose a supplier if they can tell me a bit about the way they work and why their product tastes so good."
Premium produce and niche varieties do not come cheap of course – with set menus ranging from a bargain £20 lunch menu to an extravagant nine-course menu for £75 – but Clarke believes strongly that Brits should be willing to pay for quality.
"The UK has become so obsessed with price over flavour and quality," he says, citing data from market research firm Euromonitor which shows that British households spend a smaller fraction of their income on food than any other country except the US and Singapore. "With business rates and labour costs rising, restaurants are probably going to have to start charging a bit more," he says, "but the race to the bottom on price isn't helping anyone. It should be about getting the best quality food on the plate."