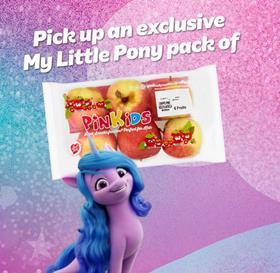 Pink Lady has been working with eOne, Hasbro's global entertainment studio, to create a promotional pack offering prizes for 40 winners.
The promotion, which is being run on the brand's PinKids range of smaller apples for children, was timed to celebrate the release of the new film 'My Little Pony: A New Generation', which launched on Netflix on 24 September.
Running in Aldi, Lidl, Ocado, Iceland, Amazon Fresh UK, Spar UK and TJ Morris, special stickered packs feature a QR code which gives shoppers the chance to win one of 40 bundles of My Little Pony toys and books worth £100 each.
The PinKids promotional packs went on sale in mid-September and will run until mid-October.
Julie Criddle, trade marketing manager for Pink Lady, said: "We're thrilled to be launching this partnership with My Little Pony, a brand which is beloved by so many of our customers and their children. We're sure that lovers of our PinKids apples will be delighted to be given the opportunity to win one of our prize bundles to celebrate the release of My Little Pony: A New Generation on Netflix.
"Our PinKids apples are hugely popular with parents, particularly at this time of year when kids are going back to school and parents are thinking about healthy snacks for lunchboxes – and we're sure this promotional incentive is going to be a hit with shoppers."