Shoppers at Morrisons stores can win monthly prizes when they pick up a pack of Pink Lady apples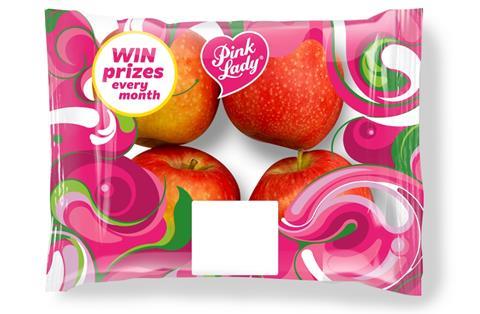 Leading apple brand Pink Lady is rolling out a new promotion offering shoppers the chance to win monthly prizes, hitting shelves in Morrisons stores across the UK.
The giveaway, appearing exclusively on branded Pink Lady packs, offers purchasers the chance to give themselves 'a little lift' by entering the brand's monthly giveaway. A royal picnic hamper, Dyson hair styling products and Apple tech are amongst the list of prizes.
Julie Criddle, senior trade marketing manager at Pink Lady licensor and marketer Coregeo said: "This promotion brings to life the Pink Lady brand message which is all about moments of wow and enjoying life's little lifts. It was designed to have longevity with the offer of a new prize each month, enabling us to build up anticipation and encourage frequency of purchase with shoppers.
"As a brand, we're passionate about rewarding our customers and giving them yet another reason to pick up Pink Lady from the fixture and we're confident this promotion will be hugely popular with Morrisons shoppers."
The promotional packs of Pink Lady apples are available in Morrisons stores nationwide.