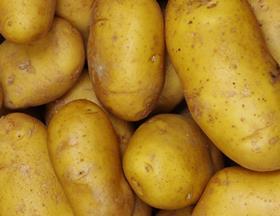 A pair of potato farmers from Pembrokeshire have been named Britain's food producers of the decade.
Peter and Gina Smithies of Trehill Farm, Pembrokeshire, scooped the top prize at the National Trust Fine Farm Produce Award, awarded in recognition of the ceremony's 10th anniversary.
The married couple grow potatoes across 600 acres on the coast of Pembrokeshire, having been tenants at Trehill since taking over from Gina's parents in 2001.
They have won a Fine Farm Produce Award every year since 2007.
Sixty-two products were bestowed with an award at the latest ceremony, held last night (1 September).
Gina told news outlet Wales Online: "This award gives our product a distinctive point of difference. The high profile National Trust brand helps drive sales by linking the charity's core purposes with food production.
"The award itself gives us the confidence to present our potatoes to all customers, large or small."
National Trust general manager for Pembrokeshire, Jonathan Hughes, said: "I'm thrilled for Gina and Peter to have won this award.
"Not only have they consistently produced high-quality products, but they have farmed with biodiversity and conservation benefits in mind.
"Additionally, they have allowed improved public access and enjoyment on their land. So, this is a well-deserved accolade for their produce and the other benefits their efforts have brought."
Rob Macklin, head of food and farming at the National Trust, and chair of the judges said: "This is a landmark year for the awards and we are thrilled to be able to award more tenants and food producers than ever before.
"It really is the best way to mark the dedication and work our tenants put in to their businesses."
The annual awards celebrate produce from the National Trust's 1,500 tenant farmers and estates across England, Wales and Northern Ireland.
Products not only have to excel in the obligatory taste test, but entrants also have to pass a checklist of environmental standards to guarantee the quality and origin of ingredients alongside high standards of production.
The winners were decided by a judging panel consisting of 10 food and drink experts, including representatives from Selfridges' food team, the venue at which the ceremony was held.
This year 37 producers in total were recognised, in products ranging from apple juice to beetroot.