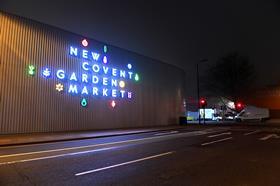 The group behind one of the UK's biggest fruit and vegetable wholesalers has merged with a luxury caterer to create a foodservice giant and offer customers a new one-stop shop for their deliveries.
The Premier Group – which comprises Premier Fruits, as well as Premier Foods Service Provider, Premier Prepared and Primeur – has signed a 50-50 merger with the London-based catering company Absolute Taste to create The Menu Partners.
According to the new company's joint owners, Premier's Jason Tanner and Absolute Taste's Nigel Harris, the business venture is "designed to be the new leading food sourcing, procurement and distribution partner to hotels, pubs and restaurants across the UK".
Broadly speaking, the plan is for Premier to supply the fresh products and logistics for the Menu Partners, while Absolute Taste takes care of the cooked products.
The combined business will offer consolidated deliveries of fresh, frozen, dry goods, dairy, pre-prepared and pre-cooked food to hospitality customers across the country.
Its larger scale will give it the opportunity to work with a wider range of producers and suppliers around the world, which Tanner said could prove an advantage amid Brexit uncertainty.
For a number of years, the two companies have been working closely anyway, with Premier handling the fresh produce supply contracts for a number of Absolute Taste's customers, including ATP Tennis, the Ryder Cup and the Etihad Stadium.
The Premier Group has been supplying fresh fruit and vegetables to the catering and hospitality industry from their depots at New Covent Garden Market, Brighton and Oxford for nearly 20 years.
Meanwhile, Absolute Taste caters for a host of British and international sporting events – including The Open Championship and every F1 race around the world – as well as a number of hospitality chains such as Hiton Hotels & Resorts, Fuller's and Soho House.
Harris is the former owner of leading foodservice company Fresh Direct.
"We came up with the idea about 18 months ago," Tanner said. "We were being approached by various customers who wanted a one-stop shop rather than having 10-15 different suppliers for all their different products.
"As well as handling the fruit and veg, we will be the wheels for the bread guys, the dairy guys, the meat guys, the fish guys, and so on."
He added: "With the current situation we find ourselves in, we feel this is the perfect time to look at the future of foodservice.
"Chefs don't have time to manage a huge number of suppliers and The Menu Partners takes that away from them, providing them with a consolidated solution and a streamlined ordering process."
Earlier this year the coronavirus pandemic decimated the hospitality industry, with trade association UK Hospitality reporting that just 11 per cent of businesses were able to operate normally during lockdown.
When the pandemic struck the Premier Group switched to home deliveries, servicing over 5,000 households a week. Meanwhile, Absolute Taste created a range of ready meals for a supermarket chain and, alongside a number of partners, launched Salute The NHS, a charity committed to delivering one million meals to frontline NHS workers.
While Covid-19 was a major setback for the two suppliers, which were forced to make some redundancies, Harris said it afforded him and Tanner time to follow through with the planned merger.
"What Covid did was present the opportunity because when everything disappears you can start again," he said. "With Jason's wheels and logistics expertise and my food-making ability, it made sense.
"The merger is creating huge amounts of new jobs, which is great news because we want to get as many people back to work as we can.
"None of us have ever tried to fight a pandemic before – we've never understood what it takes to bring a business back from coronavirus – but you're far better placed to do this as a team rather than individually because you can run ideas past each other."
The Menu Partners, which was formed at the beginning ofSeptember 2020, will now work out of The Shed in Bicester, New Covent Garden Market and Brighton, with an additional logistics site, also in Bicester, scheduled to open in August or September 2021.