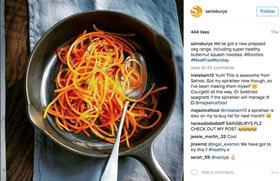 Prepared salad supplier Freshtime has invested in a new four-lane spiraliser to cater for the ongoing demand for spiralised produce in NPD.
The English-made machine can spiralise produce including courgettes, butternut squash, carrots and beetroot, and requires two people to operate it. In total, Freshtime now has a six-lane spiralising processing facility, as the new machine adds to the company's existing two lanes.
Speaking at the London Produce Show, held yesterday (9 June) at London's Grosvenor House Hotel, Freshtime's national account manager, Lydia Sweeney, said the trend for spiralising taps into consumer demand for carb alternatives. "We are supplying spiralised produce to all our major retail customers. We're also looking at cauliflower cous cous as another carb alternative, which is also gluten free," she said.
Head of procurement John Stokes said the spiraliser does create issues with food waste as only parts of the vegetable can be used, such as the neck of a butternut squash.