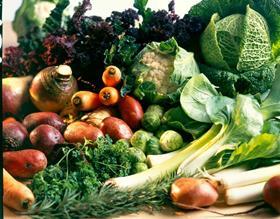 Retailers can boost vegetable consumption by promoting typically overlooked products in mid aisle displays, according to the Food Foundation.
The organisation, which runs the Peas Please campaign, has released a new online guide to help retailers sell more veg after new figures showed that consumers buy two thirds less veg than they should.
According to government guidance, 20 per cent of shopping should be made up of vegetables, but most consumers only reach 7.2 per cent, the Food Foundation said.
There were also regional variations in the consumption of veg, with English consumers buying the most, followed by Welsh and then Scottish.
Food Foundation director Anna Taylor said: "Education programmes designed to get people to eat more veg have had limited success. We need to change tack and look at all parts of the food supply chain and ask ourselves what more we can do to make it easier for consumers to eat more veg.
"Today we are publishing a new online guide, which is packed with practical ideas for retailers, big and small, to increase their fresh, frozen and tinned vegetable sales. International and domestic case studies in our guide show that a strong vegetable offer can boost profits, so we hope they'll be interested."
Mid aisle displays have been shown to boost sales of overlooked veg by 400 per cent in Denmark, while other tips for retailers include using floor stickers and marking space in trolleys for fruit and veg.
The guide has been backed by Midlands franchise group Simply Fresh, which said it had doubled turnover in one store by introducing a more substantial vegetable offer.
Simply Fresh director Sukhjit Khera said: "Leading on vegetables, making them a prominent part of our displays and overall offer, has been key to our success.
"In our Alcester store alone, we were able to double turnover and increase our margin by two per cent with the introduction of a more substantive vegetable offer, despite being surrounded by a number of the larger high street supermarkets.'
Convenience stores have been earmarked as a key area for more vegetable consumption. CEO of the association of convenience stores, James Lowman, said: "Research shows that only 23 per cet of UK consumers think that their local convenience stores have enough healthy options but shoppers tell us that they would recommend stores to friends based on the quality of their fruit and veg.
"Providing a full range of fruit and veg not only helps consumers make healthy choices, but makes sound business sense."
As part of the Peas Please campaign, the Food Foundation is due to hold a Vegetable Summit in London, Cardiff and Glasgow on 24 October 2017.