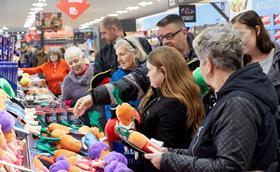 Aldi has reported its best-ever Christmas in the UK, with sales in the run up to the big daytopping £1bn for the first time.
The supermarket, which said the increase in the four weeks to December 24 represented a 7.9 per cent rise compared to the same period last year, put the result down to strong demand for alcohol, premium Specially Selected products and fresh British meat.
Aldi also cited a survey of 3,000 consumers by trade publication Marketing Week that indicated its Christmas advert, which featured Kevin the Carrot and Robbie Williams, was the most effective of all the supermarkets.
Giles Hurley, chief executive of Aldi UK, said: "More customers than ever before shopped with us this Christmas because they knew Aldi offered unbeatable value on premium products and the lowest prices on festive essentials.
"Although we saw strong growth across all key categories, sales of our premium Specially Selected range surpassed expectations, as customers snapped up these products for a fraction of the price they would have paid elsewhere."
The discounter also pointed out that it again ran its Christmas Food Donations campaign to donate unsold fresh food to local charities after its stores closed on Christmas Eve.
More than 500 charities across the UK were matched with a local Aldi store and received a food donation,includingfruit and vegetables, fresh meat and fish, and bread. The total volume of food donated was equivalent to over 440,000meals.