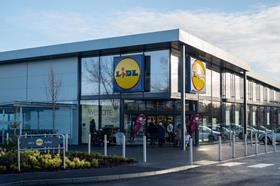 Lidl has toasted a record Christmas, with UK sales soaring by 17.9 per cent against the same period in 2019.
The rise, for the four weeks to 27 December 2020, came as basket size increased by 24.8 per cent and the discouter picked up £34.7m of spend from other supermarkets. Supermarket shopping was boosted at the time by coronavirus restrictions driving shoppers to stores rather than eating out over the festive period.
Lidl said its Deluxe range saw a sales uplift of 22 per cent year on year over the period.
Christian Härtnagel, Lidl GB chief executive, said: "Despite this Christmas being a difficult time for many across the country, we are pleased to have been able to help our customers enjoy themselves by offering high-quality food at the lowest prices on the market. Our record sales and significant basket size growth just demonstrates the strength of the Lidl appeal."
Away from sales, for the third year Lidl ran its Christmas Eve donation scheme which saw over 180,000 products, the equivalent of £150,000 worth of food, given to charities and those most in need. The products were donated via Lidl's Feed it Back initiative in partnership with Neighbourly. In total, the initiative has led to more than 350,000 meals being donated to charities and good causes during the Christmas period.
The retailer has also continued to press ahead with its store expansion programme, opening four new stores in December including in Southampton and Nottingham. It forms part of Lidl's £1.3bn investment for the next two years and moves it closer to the target of 1,000 stores by 2023.