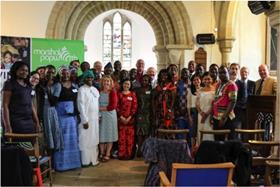 A record 21 students graduated from the Marshal Papworth Fund's agriculture courses last week.
The Fund takes students from developing countries to help develop practical agriculture skills and knowledge to be shared within their local communities to meet future food needs.
This year eleven students celebrated completing the 10-week short course BTEC in Sustainable Farming, while 10 further students approach the end of their Masters courses in September.
The Fund is wholly managed by the East of England Agricultural Society, and has already improved the lives of over 200 farmers from developing countries.
Speaking at the graduation ceremony, the Fund's patron, Bishop Stephen of Ely said: "The leap you have all taken in leaving your homes to come and study such vital subjects as water and sanitation, and sustainable farming to mitigate the effects of climate change will actually change and save lives.
"You have all studied with the purpose of saving lives in your home countries; whether that is setting children free to attend school instead of walking miles to bring clean water home, or helping your neighbours to plant their crops in a way that will make them more drought-resistant. The Marshal Papworth Fund has invested in you; the return on that investment is that you are changing the world, one person at a time."
Speaking on behalf of the Marshal Papworth Fund at this year's certificate presentation ceremony at Haddon Church, Peterborough, by arrangement of George Martin and Family, committee member Steve Harris reminded the congregation of 75 VIPs of the initial ambitions of founder Marshal Papworth.
"When Marshal bequeathed his farm to educate farmers from developing countries, he initially hoped it would fund the training of one farmer to come over to the UK, hone their skills to a more sustainable and productive way of farming, and then share that with their home community to help them to grow out of hunger. That alone would have made a huge difference to a community in a developing country. The Fund has now welcomed a truly remarkable 206 students – how proud would Marshal be?"
Mr Harris also thanked the team at leading agricultural university, Harper Adams, who hosted the short course for the first time this year, whilst also praising the six other universities that the Fund partners with for Masters courses in everything from Sustainable Agriculture and Food Security, through to Water and Sanitation for Development.