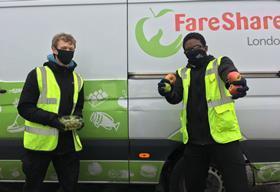 Major Kent-based supplier Richard Hochfeld has encouraged more fresh produce businesses to donate to FareShare after diverting 10.5 tonnes of surplus fruit to the food redistributor last year.
Produce from the topfruit and grape business, and its associated packers Cottage Farms and Adrian Scripps, was redistributed by FareShare to 465 frontline charities and community groups.
The produce contributed to more than 25,000 meals for people in need, two thirds of which were accessed by children and families.

Richard Hochfeld's Richard Brewer, who manages the relationship with FareShare, said: "We're totally committed to this relationship and we'd love to see more of our counterparts across the industry get involved.I am sure some companies see time and effort being a barrier to supply, but with only a little bit of effort on our part and at no significant cost, we can contribute these kind of volumes."
He added: "The partnership we have with FareShare is mutually beneficial – the charity gains access to a significant volume of Class I fruit to distribute across their network and we are able to find a final and meaningful destination for fruit that would otherwise be wasted."
FareShare more than doubled the volume of food it redistributes in 2020, diverting 48,360t to almost 11,000 local charities and community groups, enough to provide 115 million meals to vulnerable people across the UK.
These vital food supplies supported Covid-specific emergency food relief programmes as country-wide lockdowns and job losses left UK communities in dire need of help.
Despite an incredibly challenging year for the food industry, fresh produce suppliers contributed a whopping 17,600 pallets of fresh fruit and vegetable during 2020.
For FareShare to meet future demand, it says it needs more companies across all food sectors to get involved. Some 90 per centof the charities it serves say demand for food will remain at crisis levels or increase in the next few months.
Joanna Dyson, head of food at FareShare, said: "We are extremely grateful to Richard and the team at Richard Hochfeld for the fantastic support they have given us. Sourcing fresh, good to eat, quality fruit is crucial for the charities and people FareShare supply.
"Around two thirds of the food we redistribute is accessed by families and children and so handheld fruit is always greatly appreciated.
"Our charity members really value being able to provide healthy, nutritious snacks to their service users, stressing the importance of enabling vulnerable people to experience foods they may not often have access too, such as fruit, which can be expensive for a household on limited funds and helping them maintain a healthy diet."
FareShare had to adapt quickly during the pandemic, securing additional warehouse space at 11 of its regional centres and expanding into new regions such as the Scottish Highlands and islands, Devon and Cornwall.
Its sign-up process was streamlined to help more charities benefit, and in just one week in April, FareShare received more than a year's worth of volunteer applications.