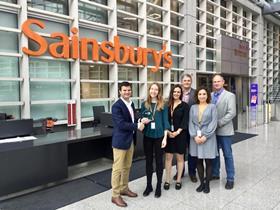 Sainsbury's has been named South African Stone Fruit Retailer of the Year in recognition of its strong support for the category.
The award was presented by South African growers' association Hortgro, which said Sainsbury's had delivered exceptional results and collaboration during the 2018-19 campaign to promote southern hemisphere stonefruit.
Jacques du Preez, general manager trade and markets at Hortgro, said: "Sainsbury's has consistently supported the campaign and achieved growth, regardless of a difficult season due to the drought in South Africa. We are delighted to present Sainsbury's with the award this year."
The retailer promoted South African stonefruit online at sainsburys.co.uk and sainsburysmagazine.co.ukthrough recipe videos, MPUs and banners, and also included full-page advertorials in its consumer magazine.
Sainsbury's stonefruit buyer Jessica Graham said:"The stonefruit team and I are thrilled to receive this award."
TheBeautiful Country, Beautiful Fruitcampaign was launched in 2009 with a pilot campaign on plums. It was rolled out to peaches, nectarines, apples and pears the following year and has run since in UK retailers, the media and on social media.