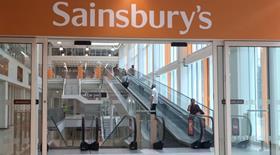 Sainsbury's profits have nosedived after the retailer spent £200 million closing 15 supermarkets and dozens of Argos stores.
Britain's second biggest supermarket chain reported that pre-tax profits fell more than 90 per cent to £9m in the six months to 21 September, compared with £107m in the same period last year.
The retailer also had to shell out £25m in redundancy costs as it reorganised store management and closed an Argos delivery depot, continuing to integrate the chain into its business.
During the period group sales fell 0.2 per cent to £16,856 million, with like-for-like sales sales (excluding fuel) also slipping by one per cent.
The supermarket chain blamed poor weather for the drop in sales, adding that sales had risen by 0.6 per cent in the three months to 21 September thanks to price cuts in 1,000 of its bestselling products.
The grocer has done away with its cheapest Basics range and instead lowered the price of 200 items sold under new own-brand labelsGreengrocer fruit and veg, Stamford Street ready meals and Mary Ann's Dairy.
Despite the slide in sales and profit, chief executive Mike Coupe remained upbeat about the supermarket's performance, saying:"We have created positive momentum across the business through strategic investments in our customer offer.
"We have lowered prices on everyday food and groceries, launched a range of value brands and are more competitive on price than we have ever been."
He added that Sainsbury's is "investing in hundreds of Sainsbury's and Argos stores, introducing new products and services and continually improving service and availability".
"We have set out our plan to create one multi brand, multi-channel business. This will make the combined Sainsbury's and Argos offer much more accessible for customers and gives us the opportunity to make our business more efficient."
With a general election approaching and Brexit rumbling on, Coupe toldThe Guardianit was unclear how a vote just before Christmas would affect sales.
"People will still have a great Christmas and spend their money," he added. "The sooner we can resolve our future [in relation to Brexit], the better. Ultimately that's what will fuel consumer confidence and retail in the UK."
In a bid to tempt shoppers back into supermarkets,Sainsbury's also announced plans to revamp their Nectar loyalty card. The new card will allow customers to pre-select personalised bonus point offers each week and scan a new 'digital Nectar card' at the till.
Commenting on the news, Ubamarket's chief executive and founder Will Broome said:"It is great to see that the industry are making changes to enhance the customer shopping experience, however, Sainsbury's sales figures suggest that perhaps loyalty cards do not go far enough.
"If retailers are really looking to remain competitive, then app technology could provide bricks and mortar stores with the answer. By digitalising the shopping experience, retailers will be able to personalise each customer's shopping experience."