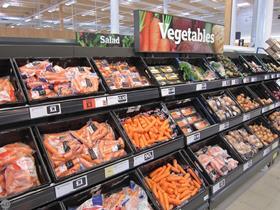 Sainsbury's is set to stop using single-use plastic bags for loose fruit, vegetables and bakery items, committing to switching to sustainable alternatives.
By September,paper bags will be available to customers for loose bakery items, and customers buying loose fruit and vegetables will either be able to bring their own bags or buy a re-usable bag made from recycled materials.
The move follows similar changes from Morrisons, which last year switched from plastic to paper bags in its fresh produce aisle.
The move was criticised by environmental experts, however, with the Environment Agency finding thatacross their production, use and disposal, paper carrier bags contribute more to global warming than plastic ones.
The supermarket chain has committed to cutting a further 1,284 tonnes of plastic this year, which includes removing 489t through the bag switch on loose fruit, vegetables and bakery items.
Sainsbury's has previously implemented measures that are already leading to a reduction of8,101tof non-recyclable plastic and "virgin plastic" every year.
The retailer's latest efforts bring this total toover 10,000t, and this is in addition to its commitments to ensure all plastic packaging is reusable, recyclable or compostable by 2025.
Sainsbury's CEO Mike Coupe said:"We are absolutely committed to reducing unnecessary plastic packaging in Sainsbury's stores. Our customers expect us to be leading the way on major issues like this, so I am determined to remove and replace plastic packaging where we can and offer alternatives to plastic where packaging is still required to protect a product."
Other plastic-reduction measures from the retailer include plans to do away with the following:
- Plastic cutlery
- Plastic trays for asparagus and sweetcorn (144t)
- Plastic lids from cream pots (114t)
- Plastic trays for tomatoes (102t)
- Plastic trays for carrots (38t)
- Plastic sleeves from herb pots (18t)
In addition, Sainsbury's has committed to replace:
- Black plastic trays with recyclable alternatives (6,000t)
- Plastic film on fruit and vegetables with a recyclable alternative (2,518t)
- PVC and polystyrene trays with recyclable alternatives (1,213t)
- Plastic trays for eggs with a fibre alternative (341t)
- Plastic cutlery for takeaway food with wooden alternatives (38t).