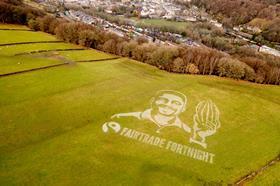 High consumer demand for Fairtrade products, including bananas, cocoa, wine, gold and cosmetics suggests an increased shopper awareness of sustainability, according to new research.
The latest GlobeScan 2021 data indicates that 65 per cent of people in the UK say they choose Fairtrade, demonstrating continued consumer commitment to products that are ethically and sustainably produced.
Demand is also translating into sales, with the Co-op's 'Ethical Markets Report 2021' noting that the UK 'green pound' has reached record levels, breaking through the £100bn mark for the first time.
It found that Fairtrade sales increased by 14 per cent in 2020. The report has tracked ethical expenditure year by year over the past two decades, while the Fairtrade Foundation's own figures set out in its latest annual report show sales of Fairtrade cocoa grew by 3 per cent and were matched by 3 per cent growth in bananas in 2020.
Fresh produce growth
In the retail space, fresh produce has seen significant growth, with increased banana commitments and new product lines including Fairtrade-certified grapes, tomatoes and oranges from the Co-op, and Keelings launching its Fairtrade tomatoes in Ocado.
In June alone, Sainsbury's saw Nectar customers purchasing more than 7.7m bunches of Fairtrade bananas over the month, having a huge impact on banana farmers.
In 2021 Fairtrade completed successful programmes focused on alleviating the impact of Covid-19 and increasing resilience of farmers and workers: this included a flower programme in Kenya in partnership with FCDO and in collaboration with business partners such as MM Flowers, M&S, Tesco and the Co-op.
Digital future for Fairtrade sales
Meanwhile, shopping for everyday goods online will remain the new norm amid the pandemic. Digitalisation makes it easier for shoppers to compare products and learn whether or not a company's sourcing and manufacturing practices align with their values.
Amazon is making it easier than ever to shop Fairtrade, with Fairtrade badging on product pages and with Amazon's own Climate Pledge Friendly, a dedicated programme to help customers discover products with sustainability certifications. There is also Fairtrade badging on Asda's online shop and dedicated Fairtrade aisles in the Co-op and Ocado's online stores.
According to Fairtrade research, there is a clear desire among online shoppers to support brands that are not only taking care of their own teams and suppliers but are also contributing to making the world a better place.
A new partnership with B Lab will also pursue collaborations around standards development and building network relationships.
The Fairtrade Foundation's annual Fairtrade Fortnight campaign has kicked off this week. Taking place between 21 February- 6 March, it marks the second year of Fairtrade's Choose the World You Want climate campaign, asking the British public to get behind Fairtrade so that farmers in low-income countries can benefit from fairer prices, trading practices and the resources needed to tackle climate change.