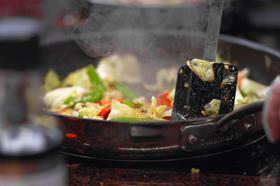 Lockdown has had a positive effect on the nation's cooking habits with more people preparing meals from scratch, new research indicates.
A consumer survey carried out by the Stilton Cheese Makers Association found that over two thirds (67 per cent) of Brits are cooking meals from scratch more regularly since lockdown began in favour of eating ready meals and takeaways.
Some 61 per cent are trying new recipes and 60 per cent are looking at ways of livening up everyday meals.
The newfound enthusiasm for cooking rises to 76 per cent among 18-24 and 25-34-year olds, and geographically those living in London and Northern Ireland are at the forefront (77 per cent).
Over half (59 per cent) of respondents said they were cooking more since lockdown began, with 40 per cent saying there has been no change and just two per cent doing less.
The interest in home cooking is also being passed on to younger generations, with 42 per cent of households saying their children are also doing more cooking since lockdown began.
Suppliers across the majority of fresh produce categories have reported substantial uplifts in supermarket sales in the last three months, particularly in the early weeks of lockdown in late March.
In a further boost, the research also reveals that during the Covid-19 crisis, 65 per cent of British consumers are much more likely to buy British produce to support farmers.