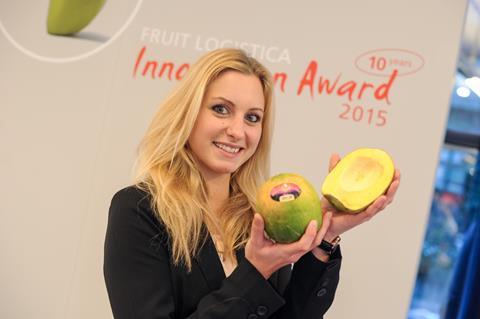 The Aurora Seedless Papaya has won the 2015 Fruit Logistica Innovation Award in Berlin.
The product, from Aviv Flowers Packing House in Israel, saw off nine other finalists to pick-up the prestigious trophy, voted for by visitors to the annual trade show.
The Aurora papaya is described as a unique seedless variety with a rich and balanced taste without the papaya's typical aftertaste. It has a delicate and pleasant aroma and firm flesh, and is said to have a shelf life longer than that of existing papayas.
The product beat off second-placed Lemoncherry from BelOrta in Belgium, and third-placed DIY Fresh Packs, from Bakker Barendrecht (Univeg Group) in the Netherlands.
The former is a new variety of yellow cherry tomato which features a delicate hint of lemon, while the Fresh Packs help consumers to prepare a meal, soup or side dish using fresh ingredients.
Speaking at the presentation, Fruchthandel managing director Robert Broadfoot said: 'It's a compliment to the success of this award that one or two of the winners have gone on to become household names.'
Aviv Flowers added that its grower had spent 10 years working 'day and night' on his own developing the winning papaya.