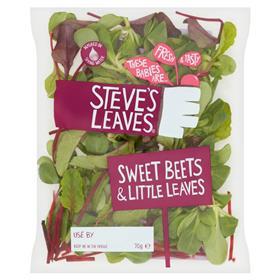 Baby leaf brand Steve's Leaves has added a new mixed salad bag to its range.
The 70g bag called Sweet Beets & Little Leaves contains a combination of shredded beetroot, lamb's lettuce, baby red chard and deep red beet leaves and will be available in Waitrose and Ocado at an RRP of £1.40 from 17 June.
Thenew ingredientsare grown outside in natural sunlight, then gently washed in spring water and packed in air-filled pillow bags designed to prevent damage. The packaging also helps ensure the leaves remain fresh throughout the supply chain.
The brand added that the 70g bags are "ideal for consumers looking to minimise waste" since each bag is the right size for a main for one or a side for two.
Eleanor Bridgman, head of innovation and marketing at Steve's Leaves, said: "We are confident that our new Sweet Beets & Little Leaves bags will appeal not only to consumers looking for a fresh and delicious bagged salad, but also to those who are conscious about the environment.
"We are proud that ourbaby leaves are farmed in partnership with nature and we make it our mission to nurture healthy soils and build biodiversity. Each of our farms sets aside land to allow nature to thrive."
The new mix joins the two other products in the Steve's Leaves range: Baby Watercress & Little Leaves and Pea Shoots & Baby Leaves.