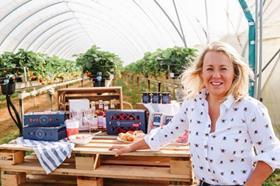 The woman behind the Annabel's Deliciously British brand of strawberries has raised more than £12,000 for The Prince's Trust following a difficult 2020 season.
Farmer and entrepreneur Annabel Makin-Jones, whose farm is in West Yorkshire near Leeds, said: "Reflecting on last summer, it genuinely was one of the toughest harvests, but out of adversity comes opportunity.
"Picking 560 tonnes of berries during a pandemic with half your markets shut down because of Covid was an enormous challenge. But we persevered, pivoted, found new markets and celebrated one of our best-ever seasons.
"I'm delighted to make a donation of £12,000 to The Prince's Trust. Young people have been adversely affected by the pandemic. The loss of face-to-face teaching, apprenticeships and just being able to hang out with your friends have been severely curtailed during lockdown. Lockdown really has been tough for young people and I don't want anyone to give up on their dreams."
Youth unemploymentin Britain is on course to more than triple to the highest levels since the early 1980s, with a "Covid generation" potentially facing long periods out of work.
"We must work to empower young people in uncertain times," said Makin-Jones. "Helping the next generation of into education, training and jobs is essential. My hope is this donation will help to inspire the next generation, particularly young girls, to believe in themselves and find the confidence to succeed."
The Prince's Trust helps young people all over the UK to build their confidence and skills and supports them into jobs, education and training. Founded by The Prince of Wales in 1976, the charity supports 11-30-year-olds who are unemployed, struggling at school and at risk of exclusion.
Many of the young people helped by the trust are in or leaving care, facing issues such as homelessness or mental health problems, or have been in trouble with the law.
The courses offered by The Trust give young people the practical and financial support needed to stabilise their lives, helping develop self-esteem and skills for work.