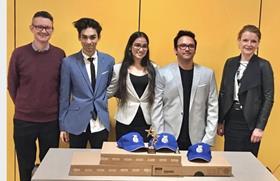 Students from the University of Northampton's Faculty for Business and Law have pitched their ideas for productsthatcould help fruit importer Blue Skies meet the needs of the future.
The FBL (Faculty of Business and Law)Challenge was devised by the universityin partnership with the Northamptonshire fruit supplier. Theinitiative challenges students to come up with innovative products and solutions that are designed to address a series of future scenarios put forward by Blue Skies.
The scenarios include predictions on social, environmental, political, economic and technological changes that could affect the world in 2025.
Four finalists pitched their ideas to a panel of judges from Blue Skies and the University of Northampton on 4March at the Creative Hub in the University of Northampton. They each had to present details on the product concept, marketing plan, distribution and technical and legal considerations.
A number of ideas were pitched, including freeze dried fruit and strawberry & cream sandwiches.
The winning team, called Teen Patti, pitched an idea for Amla Candy, a traditional Indian sweet made using gooseberries and date syrup. They were presented with the FBL Challenger Trophy and each won a new laptop and the opportunity to have lunch with Blue Skies chairman and founder Anthony Pile.
Blue Skies head of sustainability Simon Derrick said: "In a rapidly changing, globalised world, we need to always be alert to situations that can affect us including political instability, climate change, consumer behaviour and government legislation. The FBL Challenge is a wonderful initiative as it encourages the next generation to help us find the solutions that will enable us to thrive in the future, whilst providing students with a real-world experience that will help them in their future careers."
Senior law lecturer Dr Ebenezer Laryea added: "Our collaboration with Blue Skies and the success of the FBL Challenge event demonstrates the very deep links which can be established and maintained between the University of Northampton and local business in Northamptonshire. Through the FBL Challenge our students have continued to exhibit their ability to apply their academic knowledge in addressing some of the most complex challenges faced by modern businesses in a rapidly changing global economy."