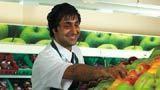 Morrisons says its sales have risen more than its rivals in its third quarter results because it has benefited from producing more of its own fresh food.
Total sales excluding fuel rose by 4.6 per cent and and like for like sales increased by 2.4 per cent.
The supermarket said its success could also be attributed to employing more specialist butchers, bakers and fishmongers and the popularity of its new premium ready meals.
The M Kitchen range is backed by partnerships with five top British chefs and since it launched ready meal sales have jumped by 60 per cent.
Chief executive Dalton Philips said there was no sign of a let up in the pressure on British shoppers but supermarkets were well placed to cope.
"People will be trading more out of restaurants and pubs into the supermarkets, so that bodes well for the sector," Philips said.
In the period Morissons opened ten new stores, including its second convenience outlet.
It plans to add 600,000 square feet of new space during the year.