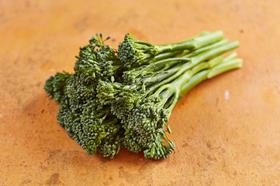 Tenderstem broccoli has reached a new record in volume sales, beating the 2 million kg mark twice in three months.
December 2020 was the first time ever sales of the speciality brassica exceeded 2 million kg in a single month, an impressive performance which was repeated in February this year, the brand's marketer Coregeo revealed.

As restrictions gradually relax and families and friends start to plan reunions, Coregeo will build on Tenderstem broccoli's strong growth in the speciality vegetable category with a focus on celebratory meals, designed to introduce new consumers to the brand, it said.

The move follows research carried out by Elephants Can't Jump on behalf of Tenderstem broccoli, which identified shoppers are choosing to trade-up and include speciality vegetables in meals for special occasions, such as Christmas and Easter, despite the restrictions and limitations placed on get-togethers by the pandemic.

Tenderstem broccoli marketing manager Lacey Bradshaw said: "Having made such an impact on the category over the festive period, we are confident we can continue to drive growth. Annual celebrations are key for our best-selling brassica and we will be focusing on promoting Tenderstem broccoli as a great choice for that special occasion as we move into the Easter period.

"Our aim is always to inspire consumers with new recipe ideas and methods of cooking Tenderstem broccoli to demonstrate the versatility of the product. We believe our planned activity will continue to provide them with the confidence they need in the kitchen as we move towards a less restrictive phase of the pandemic and families can aim to celebrate together."

Dedicated trade marketing activity will be underpinned by an extensive programme of advertising and PR and social media, including inspirational content created to show how Tenderstem broccoli can bring a little extra to the plate, whether you are cooking for your household or celebrating with a wider group, Bradshaw added.

With total volume sales for 2020 up 25 per cent year on year, at almost 20 million kilos, the Tenderstem broccoli brand has helped to drive the speciality vegetable category forward, maximising the increased demand for at-home consumption of fresh fruit and vegetables during the pandemic, Coregeo said.
Following a 67.1 per cent uplift in sales over Christmas and a record-breaking February, the brand is now looking to implement this new activity ahead of Easter, another key occasion for consumers.
Coregeo is a fresh produce brand marketing specialist and the UK's 'Master Licensor' for leading fresh produce brands Pink Lady and Tenderstem broccoli.
With over two decade's experience pioneering fresh produce brands, Coregeo specialises in intellectual property and brand management, trade and consumer marketing services and trade relationship management.
Tenderstem broccoli is tender from floret to stem so you can eat the whole vegetable, unlike ordinary broccoli, which tends to have a thicker, and sometimes woody, stem.