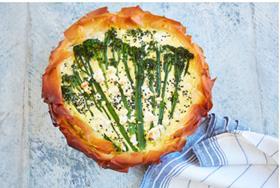 Tenderstem broccoli has announced a partnership with cookbook author, chef, writer and stylist Georgina Hayden.
The partnership with the author of acclaimed cookbooksTavernaandStirring Slowlywas brokered in support of the brassica brand's campaign 'make every dish a little adventure'.
Georgina has developed three new recipes featuring Tenderstem as a key ingredient which have been inspired by Greek and Cypriot cuisine. The recipe series was photographed by renowned food photographer David Loftus.
The collaboration will form part of an extensive campaign of social advertising as well as being used for PR and marketing activity to promote the product's versatility.
The partnership comes at a time of sustained growth for the brand, as it reported record-breaking sales in 2019. Sales volumes last year showed a cumulative increase of 27 per cent compared to 2018.
Tenderstem's marketing manager Lacey Bradshaw said: "We have long been fans of Georgina's work and were particularly inspired by her Greek and Cypriot recipes fromTaverna, so we're thrilled to have teamed up with her on this campaign.
"For us, Greek and Cypriot cuisine is known for being simple, nutritious, fresh and flavoursome which aligns perfectly with the Tenderstem broccoli brand.
"Our research has revealed that consumers are becoming increasingly adventurous in terms of the recipes they seek out and the cuisines they're interested in exploring. We're confident that the three delicious recipes Georgina has created will fit the bill for Tenderstem broccoli fans."
The recipes can be found on theTenderstem website.