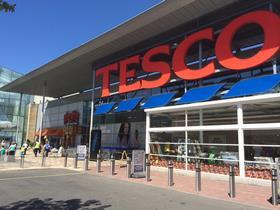 Tesco may reduce its number of distribution centres from 25 to 23 under proposals to change its logistics and operations network.
Under the plans, Welham Green distribution centre would close and grocery operations would move to the Reading distribution centre.
Tesco said realigning its distribution network will help to run the business more simply.
The management structure across all distribution centres will be simplified, resulting in some redundancies, while new roles will be created within other sites across the Tesco distribution network.
Tesco UK and ROI CEO Matt Davies said: "As the needs of our customers change, it's vital we transform our business for the future.
"As part of this we are proposing to close two of our distribution centres in the UK. These changes will help to simplify our distribution operations so we can continue to serve our customers better.
Other changes include bringing the majority of general merchandising into one distribution centre at Middlesbrough, resulting in the closure of the Chesterfield distribution centre, and moving clothing operations to the Tesco Daventry centre.
Davies added: "Our priority throughout this process has been our colleagues and we will continue to do all we can to support them at this time."