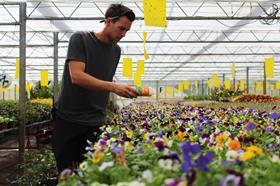 Breeders and growers across the fresh produce industry are on the hunt for the next big product – the one that will capture the imagination of consumers and help them rake in the cash, but perhaps nowhere is that search as experimental and outlandish as it is in micro produce – the Willy Wonka side of the fresh produce trade.
As recently as a decade ago micro leaf didn't even exist, yet now it is widely used in high-end foodservice. Some products, like micro coriander, can even be found in supermarket ready meals. In the past ten to 12 years a huge amount of work has been put in by the likes of Westlands to develop the growing process, the market and the product, and the Evesham-based producer now has nearly 160 product lines to speak of.
Although some of Westlands' quirky leaves may not be to everyone's taste, general manager Peter Taylor says there is "usually a place for everything". Speaking at the London Produce Show's Foodservice Forum earlier this month, he told delegates how micro leaves are allowing chefs to "put their own spin on things and create a point of difference from the restaurant down the road".
When it comes to the products that Westlands tips to be 'the next big thing' in foodservice, Taylor said edible rose petals have seen a "huge rise in sales" and are generating "big demand" for use in drinks, salads and desserts. Another product that Taylor believes has strong potential is micro mint. "Micro mint has been around for quite a while, but we've never been able to grow it in a volume that's commensurate to how we think demand should be because it's a staple herb that people want," he said. "Now we've got a good, stable volume and I see micro mint coming up as a very versatile micro leaf that can be used for drinks, desserts and savoury dishes".
In addition, Bolivian begonia flowers combine bright colours and an acidic, sorrel-like taste which Taylor says is "top of the list of flavours that chefs are looking for at the moment". Another product that leaves a sour taste, but in a good way, is plum sorrel – an attractive tricoloured red leaf with a yellow flower. "It's certainly quite sour," said Taylor, "but chefs want those extreme flavours because they can pair them with sweet ingredients or other flavours."
Over in the east of England, micro produce grower Nurtured in Norfolk says coriander, lemon balm, mint, chive flowers and garlic flowers are among its most popular products due to their high flavour profile, explaining that chefs want to "add depth and flavour to the palate rather than just a garnish." Sue Drane, who is managing director of the company alongside her husband Allan Miller, echoes Taylor at Westlands, saying edible flowers are now in high demand thanks to their flavour, texture and colour.
When it comes to idea generation, Taylor stresses the importance of not being afraid to experiment on the basis of trial by error. "We've got to try things and sometimes we've got to try them on a fairly big scale to see if they work or not," he said. "There are plenty of plants, flowers and all sorts of products that we've tried to grow, and thought might be the next big thing, but they weren't. Lots of products have fallen by the wayside compared to the one or two that have started to make it."
It's not simply a case of stabbing in the dark, however, with Taylor saying Westlands has some "fairly clear ideas" of what it's trying to do to make a number of its ranges more exciting and to keep chefs interested. "We have two-way communication with chefs. We have chefs that come to us and say, 'we'd like you to grow this', and we also go to chefs and say, 'we've grown this, what do you think?'"
As a hydroponic vertical grower, product development at Westlands involves playing around with the frequency of LED lights. Vernon Mascarenhas, who is commercial director of high-end foodservice supplier Nature's Choice and was one of Westlands' first customers earlier in his career, explains that you can change the flavour of a micro product by altering the frequency of LED lighting used to grow it.
"Each plant responds to a different frequency and you can create new flavours using different frequencies," he explains. "Companies like Thorn in the UK and Philips in Holland are investing multi millions in lighting technology".
With vertical farming technology progressing at breakneck speed – in lighting, hydroponics, seeds and growing techniques – Mascarenhas says Ocado's recent investment of £17 million in the industry (see page 4) is a drop in the ocean compared to what's happening in America's Silicon Valley.
"You've got companies investing over $1 billion in vertical farming over there, and while Europe is more advanced in research, America is much more advanced in terms of securing investment and rolling out the technology."
Despite this, Mascarenhas is confident that the UK is on the cusp of taking a major step in vertical farming, from producing micro cress to wholehead lettuce, namely gem and cos.
"Things like micro coriander and micro fennel mean bugger all to the general consumer – it's a restaurant trend," he says, "but if you can produce wholehead lettuce within 18 days for a supermarket, that's where the real money is."