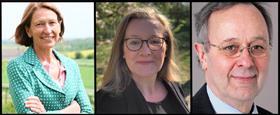 The board ofCovent Garden Market Authority has appointed three new non-executive directors.
New board members Fiona Fell and Sarah Calcutt are starting immediately, with David Fison joining in June. The appointments will be for between three and four years.
Fiona Fell has 25 years' experience providing independentnon-executiveleadership across organisations with multiple stakeholders and an impact on wider society.
She is currently developing business-led innovation in the agri-food supply chain as deputy chairman of the Centre for Innovation Excellence in Livestock, a newly formed agri-tech consortium delivering collaborative investment in UK capabilities. She has also been a member of AHDB and chair of AHDB Potatoes.
Sarah Calcutt is a sixth-generation farmer from the Weald of Kent and has spent the last 20 years working within the UK's food and farming community. During her career she has grown, picked, packed and marketed British produce, and through her business Partners in Produce she has also worked with some of the major players in production, retail and wholesale.
Calcutt is currently the operations director at British Apples & Pears, chair of the National Fruit show, SE chair of the Nuffield Farming Scholarship Trust, vice-chair of the Rural Policy Group and a non-executive director for tech fresh produce start-up business COGZ.
David Fison is chairman of Hampshire-based Humphrey Farms, a family-owned business. He's also a governor at the University of the Arts, London, and a non-executive director at London City Airport. He chairs the Estates and Capital Projects committees on the latter two, both of which have major development programmes.
Fison has more than 35 years' experience working in the construction sector. He was chief executive of Skanska UK, the UK arm of one of the world's leading construction services groups, from 2002 until 2008.
He spent 10 years at Skanska, managing multi-discipline businesses involving very large construction projects and support service operations. He previously held senior management positions at Skanska and construction firm Balfour Beatty.