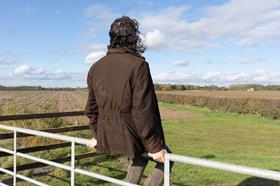 A survey of 500 farmers across England and Wales by Sustain reveals that 56 per cent want to stop selling to centralised supermarkets and larger processors, while a further 20 per cent would consider doing so.
Polling a representative sample of large, medium and small arable, livestock and horticulture farmers, the study found that most want to supply a different market via "farmer-focused supply chains and local and regional food systems".
These include an established food hub, box scheme or farmers market (51 per cent); local independent retailers (28 per cent; a local packer and/or distributor (28 per cent); and/or their own retail space (26 per cent), the survey found.
In addition, over 50 per cent of respondents said they want to join or start a cooperative or farmer buying group, with another 25 per cent saying they would consider this.
In its report published last month analysing the results from the survey, Sustain said the main perceived benefits farmers saw for changing supply chains were 'better margins, more direct links to the customer, delivering more for climate and nature, and building more resilience into the business'.
Many also felt that changing supply chains would help them deliver on soil management, animal welfare, public engagement and better wages for staff.
To successfully move away from the current approach of supplying into supermarkets and larger processors/manufacturers, farmers said they need better access to local infrastructure, affordable finance, marketing knowledge, and market outlets like established box schemes or food hubs.
To achieve this, Sustain proposes that the Government, local authorities, Local Enterprise Partnerships (LEPs) and stakeholders:
• Develop Growth Action Plan(s) to increase the market share of farmer-focused supply chains and local and regional food systems to 25% by 2035;
• Provide a new finance mechanism (a Local Food Fund) to invest in smaller scale and localised infrastructure and supply chains;
• Ensure that Local Enterprise Partnerships (LEPs) and other financiers support farmer-focused supply chain investment;
• Expand on existing funding (i.e. the Future Farm Resilience Fund) to provide more affordable business and marketing advice and data gathering; and
• Work with local authorities to create a Local Food and Farming Planning Framework that explicitly supports a transition to agroecology, farmer-focused supply chains and local food systems.
The survey was conducted over a 12-week period from March to June 2020.
Sustain is an alliance of organisations and communities promoting sustainable systems of food, farming and fishing.