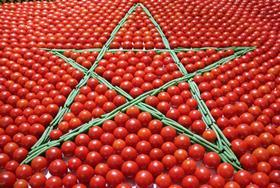 A research partnership has been announced by a Moroccan university and two of the UK's leading agricultural institutions to help develop more productive and sustainable agriculture in Africa.
The collaboration between Mohammed VI Polytechnic University near Marrakesh, Rothamsted Research and Cranfield University will be aided by OCP Group, which is one of the largest exporters of phosphate fertilisers in the world.
Up to 20 early career researchers in the agricultural sector will be supported both in Morocco and in the UK through the partnership.
The initial phase of the partnership will focus on the delivery of seven agricultural research projects and the creation of a Centre for Doctoral Training, supporting the development of the next generation of Moroccan scientists and engineers.
The announcement comes on the back of closer relations between the UK and Morocco to strengthen collaboration in education, research and innovation.
During the signature ceremony, Hicham El Habti, secretary general of Mohammed VI Polytechnic University, said: "OCP, through its R&D programme and in close co-operation with the Mohamed Vi Polytechnic University, is developing fertilisers that are specific to the needs of African soils and crops, as well as locally-appropriate service models for African farmers to have reliable, affordable access to these inputs and related products.
"This vital partnership with Rothamsted and Cranfield University will support the acceleration of this strategy to help African farmers become not only more productive, but also more prosperous."
Professor Achim Doberman, director and chief executive of Rothamsted Research, added: "The development of sustainable agriculture across Morocco, and Africa as a whole, is vital to the continent's food security and economic growth.
"The challenges are immense, but by nurturing the talent and enthusiasm of young scientists, I am confident that there can be bright future both for Africa's famers and its environment."