Collaboration between industry and government essential to promote frictionless trade, group said at recent conference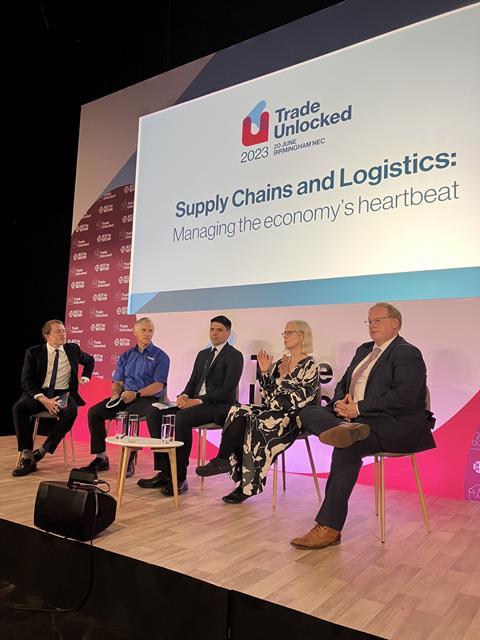 Speaking at Trade Unlocked held in Birmingham last week (20 June), Logistics UK's Director of Policy, Kate Jennings, highlighted the importance of frictionless trade to the UK economy and the need for continuous engagement with government to address the challenges surrounding decarbonisation, trade and skills that currently limit further trading and investment opportunities.
Logistics underpins every sector and as highlighted in Logistics UK's Logistics Report 2023, added £163 billion to the UK economy in 2021. However, according to the World Bank's 2023 Logistics Performance Index (LPI) report, the UK's competitiveness in logistics has fallen to 19th on the performance indicator, a significant drop compared to the average placement of 6th between 2012 and 2018.
Jennings said: "Logistics plays a vital role in the nation's economy, and it is crucial that as an industry, we maximise trading opportunities and ensure these are as frictionless as possible. The sector is working hard to address issues surrounding decarbonisation and skills, however with the publication of the Border Target Operating Model imminent, collaboration between industry and government is essential to address the further details needed by the sector and avoid costs and new potential barriers that would inhibit trade."
Logistics UK is one of the UK's leading business groups, representing logistics businesses which are vital to keeping the UK trading, and more than seven million people directly employed in the making, selling and moving of goods.
With decarbonisation, Brexit, new technology and other disruptive forces driving change in the way goods move across borders and through the supply chain, logistics has never been more important to UK plc, Logistics UK said.
The organisation supports, shapes and stands up for safe and efficient logistics, and is the only business group which represents the whole industry, with members from the road, rail, sea and air industries, as well as the buyers of freight services such as retailers and manufacturers whose businesses depend on the efficient movement of goods.