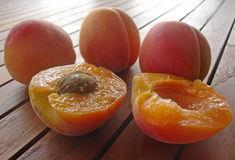 The stonefruit category is a notoriously difficult one to get right. With literally hundreds of varieties across plums, peaches, nectarines and apricots, producers have found it difficult to get consistent tasting products that the consumer can trust and recognise throughout the season.
With static retail sales of
£324 million this year, the stonefruit category, which also includes cherries, has suffered with lower prices as a result of greater volumes on the market. Plums represent almost a third of those sales, with nectarines close behind. If there has been a bright point for the sector in the recession, it has been the fact that wide availability of lower-priced fruit has meant some shoppers have been buying more, but attracting new consumers has been a problem.
South Africa, a key supplier country during the UK winter, is taking on the challenge of trying to produce more consistent products throughout the season, a move that should bring greater trust among consumers and higher sales as a result.
The new season has got off to a good start, according to Wiekus Hellmann, the new head of Capespan South Africa, with good growing conditions and fruit quality. "We started the season two weeks earlier this year and will have half a million cartons in the market before Christmas," he says. "Nectarines and plums are looking good, with smaller volumes on peaches."
New cultivars are coming on stream and will help iron out some of the peaks and troughs of the season, Hellmann says, with varieties such as African Delight plums proving a hit. "There's controlled growth in stonefruit, with a much more even spread of supply," adds marketing manager Niel Smith.
Having new and exclusive varieties also helps producers offer their customers exclusive points of difference, says Riaan van Wyk of major supermarket supplier Colors Fruit. "We are breeders and producers of new varieties, a concept we think is the best way to differentiate ourselves," he explains. "Our concept has been to find these new, exclusive varieties and bring them to the market. We are leading on peaches, nectarines, plums and apricots, where you need a whole spectrum of varieties."
The "holy grail", according to van Wyk, is to achieve consistency of supply in terms of the eating quality and profile of the fruit, and it is in that area where South African producers are making a concerted push. And it will not be long before consumers will be able to buy stonefruit with confidence about what it will taste like, van Wyk predicts. "It's easy to grow new varieties of stonefruit. In two years time you'll be able to pick up a peach or a nectarine and you'll know what you're going to get."
Indeed, a plethora of new varieties for export are appearing all the time. On nectarines, there have been huge increases in Ruby Sweet, August Red, Summer Fire, Starborne and African Glo - among many others - for the export market. On plums, African Delight is cited as the most promising season-extending variety, with large increases also seen on Purple Majesty, Sun Supreme and Sun Breeze. Peaches being grown in greater quantities include Early Rich, Rich Lady and Brittaney Lane, while Charisma apricots are growing in prominence. In all four categories, the volumes of experimental fruit anticipated for the 2010-11 season is up on the previous year.
The focus on varietal development should bring success to more players in a category that is "characterised by small producers", according to Rory Antrobus, chairman of the Fresh Produce Exporters' Forum. "Many companies have not made a success out of it. Four fifths of companies focus on varietal development and post-harvest technology, and it's a tough category to put it all together in terms of consistency of maturity and eating quality. But the varietal progress will bring good things, with the [older] varieties being replaced by lots of excellent eating fruit. I'm optimistic that the South African stonefruit offer is definitely improving."
A further boost should come with the continuation of the Beautiful Country, Beautiful Fruit campaign, the integrated South African marketing campaign managed by Red Communications in the UK. For 2011, the campaign will look to do more tailored work within supermarkets to maximise the sales opportunities within individual retailers.
Brand ambassadors Jasmine Harman and Sophie Michell will reprise their work for the push, which aims to boost sales of a wide range of South African fruit. The campaign has just kicked off, featuring the International Marketing Council's new South Africa logo and imagery.
"Over the last two years, we have worked closely with our key stakeholders, including retailers, importers and the media, to communicate the benefits of South African fruit," says Jacques du Preez, product managerfor top fruit and stonefruit at Hortgro Services. "These include the relativeproximityto market,environmentally friendly production and overall eating quality of our fruit, but also we are increasingly talking about the ethical advantages insourcing fruitfrom South Africa."
Hortgro commissioned Promar International to examine the success of the 2009-10 Beautiful Country, Beautiful Fruit campaign following a pilot project on plums last year. "The outcome of this assessmentwas very positive, showing thatthe rationale behindrunningapromotional campaign in the UK market isstrong andthecontent is appropriate to our objectives of growing awareness and sales ofSouth African fruit," says du Preez. "The report has also helped us fine tune the activity for the stonefruit and top-fruit seasons ahead of us."
All in all, the combination of a further year of promotion combined with inroads being made in varietal development point to real hope that more shoppers will buy into the category. Near perfect conditions mean a strong crop is forecast on all stonefruit varieties, with good volumes, size and quality. There would never appear to be a better time to grow sales.
STRONG RAND HEAPS PRESSURE ON PRODUCERS
The biggest threat to South African producers' profitability at the moment is their own currency. The rand has been extremely strong against both sterling and the US dollar this year, knocking huge chunks off the margins of suppliers to almost all markets.
The strong rand has seen short-term investors piling into the South African market to take advantage of high interest rates, leading the government to examine ways of bringing relief, according to André de Klerk, head of risk management at MoneyCorp. "There's been huge talk about setting up a fund to look at foreign currency flowing into South Africa and the future control of currency," he explains. "Details are thin, but we don't know how much influence that would have [anyway]."
South Africa's GDP might have been revised downwards from 3.3 to 2.8 last week, but traders still expect the currency to remain strong over the coming year, de Klerk says. "It really puts South Africans at a disadvantage. Unfortunately, we think that will be the case for the foreseeable future."
The situation is even leading some producers to consider trading with Far East customers in their own currency instead of dollars for the first time, according to Cape Citrus' MD Scott Dowle.