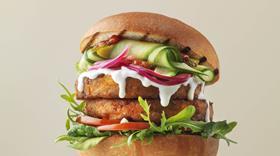 Waitrose has predicted a bumper summer for vegan and vegetarian food sales in a further boost to the fresh produce category.
The supermarket said it has seen vegan and veggie barbecue food sales soar by 80 per cent in preparation for the anticipated heatwave this weekend.
Waitrose expects to sell more meat-free barbecue products than ever before this summer, and has already seen searches for 'Vegan BBQ' on Waitrose.com increase by 26 per cent in the last month. This, coupled with the increase in searches of 'Vegetarian BBQ' by 32 per cent, highlights the continued rise in the UK's appetite for plant-based produce, according to the retailer.
Among the products in strong growth, sales of Vegan Spanish Style Whirls are up by 80, per cent, Vegan Mushroom & Leek Bangers are up 157 per cent and Vegan Jackfruit Burgers have risen 17 per cent within the last year.
Sales of large veg, ideal for grills and barbecues, such as corn on the cob and flat mushrooms, have also seen spectacular increases, with sales soaring by 163 and 111 per cent respectively. Courgettes have also risen by 129 per cent and broccoli is up 128 per cent as shoppers look to get plenty of greens on the grill.
Charlotte McCarthy, vegan buyer at Waitrose, said: "We expect this year to be our biggest for vegan and vegetarian barbecue food yet, as home-cooks seek to incorporate more flavours and options to liven-up their summer dining.
'The growing appetite for meat-free dishes is reflected in recent sales, as shoppers look to explore the wide variety of vegan and veggie options this barbecue season. We continue to see rising sales of our range, and know our customers are especially enjoying all the exciting and innovative new products."