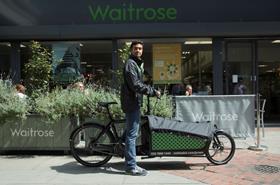 Waitrose is expanding its two-hour delivery trial to Bath and Hove following success in the capital.
The Waitrose Rapid Delivery service offers either two-hour or same-day deliveries of up to 25 grocery items from a choice of more than 2,000 products to your home or office.
It will be available in both Bath and Hove, from the 8 and 15 July respectively, with the retailer also adding 58 London postcodes to the trial in areas such as Battersea, High Street Kensington, Bayswater, Victoria and Kingston
The service launched in September 2018 after Waitrose & Partners teamed up with last-mile retail delivery start-up On the dot.
Since the launch, the retailer has increased the number of postcodes it is available in from eight to 98,giving it the potential to reach up to 1.2 million households. Average weekly orders have doubled.
Santosh Sahu, chief executive of On the dot, added:"The huge popularity and take-up of the service echoes what we're seeing across the grocery market – rapid and convenient delivery has become a key pillar in a shopper's experience of a brand.
"Shoppers now expect a range of delivery options at the checkout. Retailers like Waitrose recognise this and are always looking for new ways to make it easier to shop with them."
Nicola Waller, head of business development at Waitrose & Partners, added that there is a growing number of customers who want to receive their shopping "as and when they want it", prompting Waitrose to test the appetite for the service in new locations, both inside and outside of London.