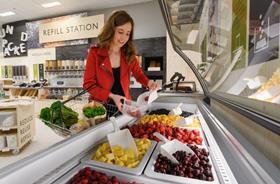 Waitrose is extending its trial ofplastic-free food aisles and refillable containers to three more stores following the success of theUnpacked scheme in Oxford.
The retailer has committed to introducing elements of the concept at a shop in Cheltenham in September and two stores in Oxfordshire (in Abingdon and Wallingford) in November, as well as pushing back the original end date of the trial in Oxford.
This follows what Waitrose & Partners described as "an overwhelmingly positive response" from consumers.
At the beginning of June, the supermarket chain transformed its Oxford Botley Road store, taking more than 200 products out of their packaging to test how customers might be prepared to shop differently. The aim was to save thousands of tonnes of unnecessary plastic.
The 11-week trial, which was originally set to end on 18 August, set out to get as much feedback as possible and more than 7,000 customers have provided comments through in-store feedback walls, customer interviews, a dedicatedweb page, and social media, using #WaitroseUnpacked.
While the original 11-week test has not yet finished, Waitrose said the findings so far have given it confidence that the concept can be a success elsewhere.
Head of CSR for Waitrose & Partners, Tor Harris, said: "The reaction to Waitrose Unpacked has been incredible with the invaluable feedback from thousands of customers giving us the confidence that they are prepared to change how they shop with us.
"We are keen to take the Unpacked concept forward and these additional tests will help us achieve this as well as understand its commercial viability."
All three additional shops will have a dedicated refillable zone with frozen 'pick and mix' fruit; dispensers for dried products;coffee, wine and beer refills; as well as Ecover detergent and washing-up liquid refillables.
There will also be a wide range of Unpacked fruit and veg, although this will need to change to reflect the season and where the produce comes from.
Waitrose reported that the Veg Kitchen scheme, which saw staff preparing vegetables for customers in store, was not as popular as some of the other concepts.
Shoppers also preferred to bring their own containers rather than borrowing a box, so both concepts will be removed from Botley Road by the end of August and will not feature in the three additional shops.
Waitrose & Partners aims to extend the refillable range of products available at the three shops following customer feedback but has not finalised plans at this stage.
As in Oxford, the additional shops will feature prominent Waitrose Unpacked branding to maximise awareness.